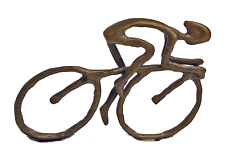 This week's event is a 2-up team time trial on the new version of the Stoke Hammond course (F5d/10). The course description includes the risk assessment. We'll be meeting near the start, in a large layby. Please review the course description and risk assessment if you're new to the course: it's the course we used for the New Year's Day '10'.
Feel free to arrange teams beforehand, otherwise pair up when signing on. If you really MUST ride solo (or have no friends) I expect the timekeepers will allow solo riders!
First team off 9am, entry is £2.50 (members), £3.00 (non-members), per rider! This is not a counting event for the NBRC TT League.
Results 
A single 2-up team gave a sterling performance, well done James and Richard. In the solo event, Lindz Barral set a new course record!
Apologies for the late posting of the results!
Pos
No
Name
Club
Time
Cat
Vets Std
.+ / -
Vets Std
2up Team Time Trial Event
1
6
James Fox
CCLuton
22.52
S
na
 
 
Richard Wood Sna
Arbis/Colbert Cycles RT
 
S
 na
Solo Event
1
3
Lindz Barral
Equipe Velo
23.58
S
na
2
4
Andy Wickham
NBRC
25.28
V44
26.18
.+ 0.50
1
3
2
Jason Lee
TeamMK
25.36
V45
26.23
.+ 0.47
2
4
5
Leigh Smith
Alpha Road Club
25.58
S
na
5
1
Ian Stokes
45 Road Club
27.52
V55
27.09
.- 0.43
3
Time Keepers:- Stephanie Cousins & Tony Farmborough NBRC
Pusher off:- Bryan Scarborough NBRC