We're racing on the Astwood course using the version starting in Astwood, on Wednesday 4th May 2021.The event starts at 7pm, and entry is £5.50 (for members and non-members) online only. Maximum number of riders is 40. THERE WILL BE NO ENTRY ON THE LINE FOR THIS EVENT.
All are welcome: make sure you turn up in time to collect your number. You'll need a mechanically sound bike and a bike helmet.
The course has aroute description and a risk assessment. Make sure you have familiarised yourself with the course, and remember that time trials are held on open roads - take care and be observant of other road users!
Download the latest Course Description and Risk Assessment (pdf)
In the event of roadworks or other problems, we will use the Brogborough course (F15/10).
The results of this time trial will be posted online shortly after the event has been completed. These data include riders' Names, Club, Category and their Result.
Start List
First rider starts 7.01pm
Please note that traffic lights have been installed on the course. If they are still in place this evening, we will use an amended start/finish. The meeting point in Astwood remains unchanged, and the new start point is about 2.5 miles from Astwood. The traffic lights are indicated by the orange dot on the map.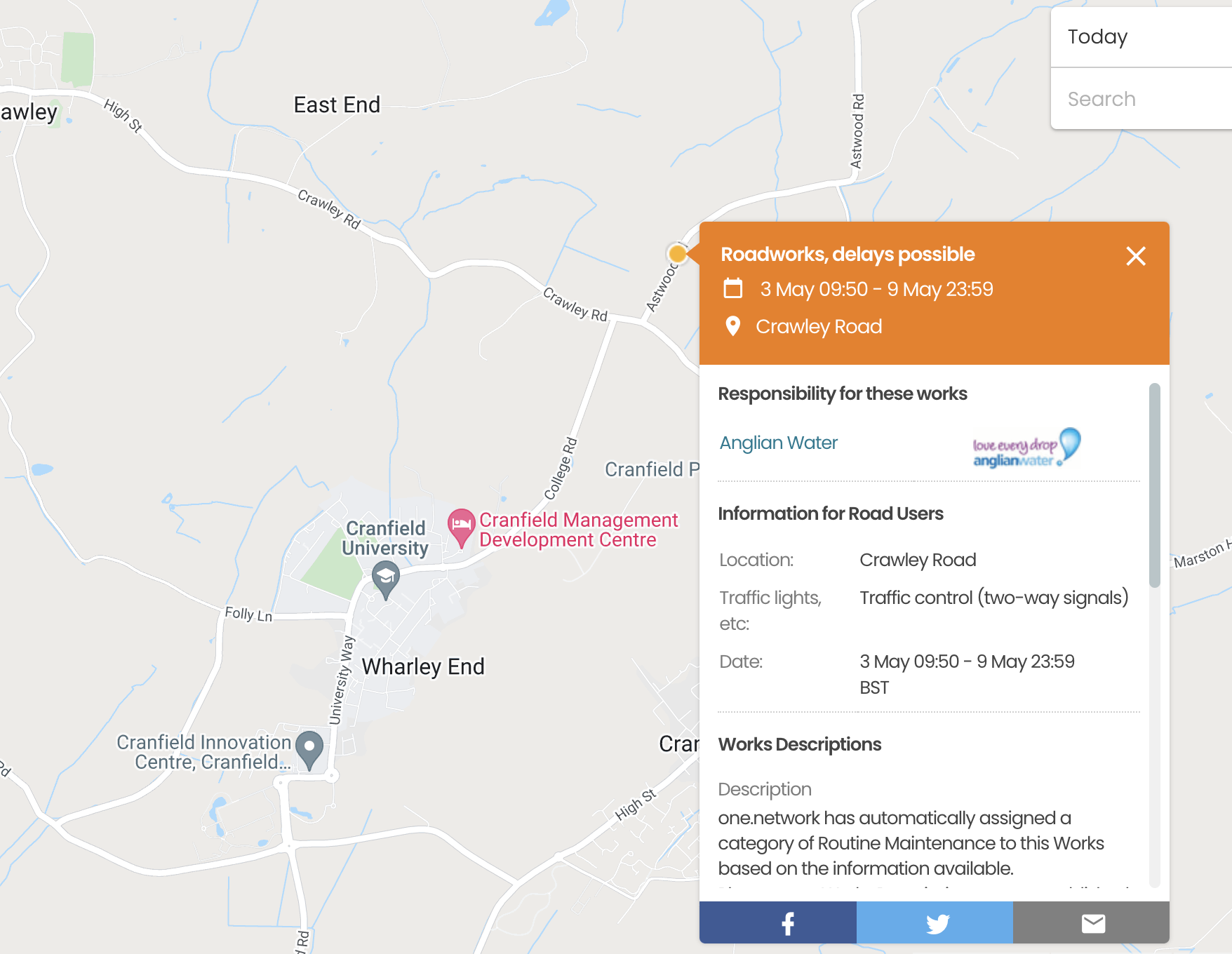 | | | | | |
| --- | --- | --- | --- | --- |
| No. | Name | Sex | Club | Cat |
| 1 | David Powell | M | Leighton Buzzard Road Cycling Club | V |
| 2 | Gray Church | M | QN RacingTMK | V |
| 3 | Martyn Douglas | M | Redway Runners | V |
| 4 | Stuart Wright | M | QN Racing | V |
| 5 | Chris Bradbury | M | Team MK | S |
| 6 | Jason Lee | M | Team MK | V |
| 7 | Robert Saunders | M | North Bucks Road Club | V |
| 8 | Mark Halliday | M | North Bucks Road Club | V |
Results
I have begun to think that Anglian Water are toying with us. I swear there were traffic lights on the course when I inspected it at 11.30am. But after alerting riders to the possibility of an adjustment of start and finish, by the time of the event, all was clear. And even the rain showers stopped for us! Mind you, there did seem to be a couple of vans with traffic lights and blokes in hi-vis jackets waiting to pounce on the course, but in the end nothing was there to interfere with the race.
Robert took the overall win and on vets standard.
Thanks to Katja for sign placement and timekeeping, Robert for IT and owrrying about traffic lights.
Overall Results Table
Pos
Number
Name
Club
Time
Cat
Sex
1
7
Robert Saunders
NBRC
00:23:37
V
M
2
8
Mark Halliday
NBRC
00:23:40
V
M
3
5
Chris Bradbury
TeamMK/BCG
00:24:22
S
M
4
6
Jason Lee
TeamMK
00:26:29
V
M
5
3
Martyn Douglas
Redway Runners
00:27:30
V
M
6
1
David Powell
LBRCC
00:28:20
V
M
7
2
Graeme Church
TeamMK/QNRacing
DNS
V
M
8
4
Stuart Wright
QN Racing
DNS
V
M
9
0
0
00:00:00
0
0
Veterans on Standard
Pos
No
Name
Club
Time
Cat
Sex
Vets Std
.+/-
1
7
Robert Saunders
NBRC
00:23:37
V
M
00:28:06
00:04:29
2
8
Mark Halliday
NBRC
00:23:40
V
M
00:27:37
00:03:57
3
6
Jason Lee
TeamMK
00:26:29
V
M
00:27:07
00:00:38
4
3
Martyn Douglas
Redway Runners
00:27:30
V
M
00:26:06
-00:01:24
5
1
David Powell
LBRCC
00:28:20
V
M
00:26:14
-00:02:06