Time Trials
What's it all about?
Often referred to as the "Race of Truth", the time trial is in some ways the purest of all road cycling disciplines. In a time trial, each rider rides alone to cover a course of given distance as quickly as possible. Usually, time trials are ridden over standard distances - 10, 25, 30, 50 or 100 miles - on out and back or circuit courses. Exceptions to this include non-standard distances (often associated with sporting courses), and the longer 12 and 24 hour time trials in which the rider aims to cover as many miles as possible in the allotted time.
The governing body for time trialling in England and Wales is Cycling Time Trials (CTT).
What kind of bikes are used?
Actually, just about any road-worthy bike can be used, though a road bike is generally going to let you ride more quickly than a mountain bike, and a more aerodynamically designed time trial bike will be faster still. The use of road bikes in time trials is encouraged, and form a separate category.
What are these 'courses'?
Time trial courses are designed as 'out and home' or circuit courses, where the start and finish points are quite close. This is to prevent riders being assisted by the direction of the wind. Time trial courses are referred to by their course codes - for example F1B/25. This arcane system arose in the days when racing bikes on the road was pretty much forbidden by the then governing body, and time trials were conducted in secrecy. Usually the course code reflects the District in which the course is located (in this case, London North, indicated by 'F') and the distance (in this case '25' for 25 miles). There's a list of London North course codes here. Note than almost all time trialling is done on open roads.
What is an 'open' event?
Open time trials are organised by a cycling club on behalf of CTT and are open to members of CTT-affiliated cycling clubs. Entry is via the CTT website. You generally need to enter the event at least 10 days ahead of time. You'll be asked for your best performances at the distance entered in the last three seasons or so - if you haven't a prior performance, just say so when entering. If the event it oversubscribed, faster riders get preference on the closing date for entries.
You'll receive a start sheet prior to the event either by email or post, which will detail the course, where the race HQ is, and what your start time is. On the day, you'll arrive at the HQ, sign on, collect you number and get ready to ride. Riders start at regular intervals, usually one minute, and you must not take pace from another rider. You'll be held at the start by the 'pusher-off', and when your start time arrives, you're off!
Then it's back to the HQ for tea and cakes, and watch the results go up on the results board. You'll receive a results sheet a few days after the event.
What is a 'club event'?
Club time trials are rather more low key. In the case of the North Bucks Road Club, we publish the calendar of events early in the year. Since 2020 we have partnered with ResultsBase to hande entries and timing: If you want a ride, you log in to the ResultsBase website to enter - we publish a direct link to each entry page in advance of the event. You do need to register with ResultsBase. Usually our events have 30 or fewer riders, and all are open to beginners to come and try time trialling. It's a pretty friendly and easy way to get a hang of the sport.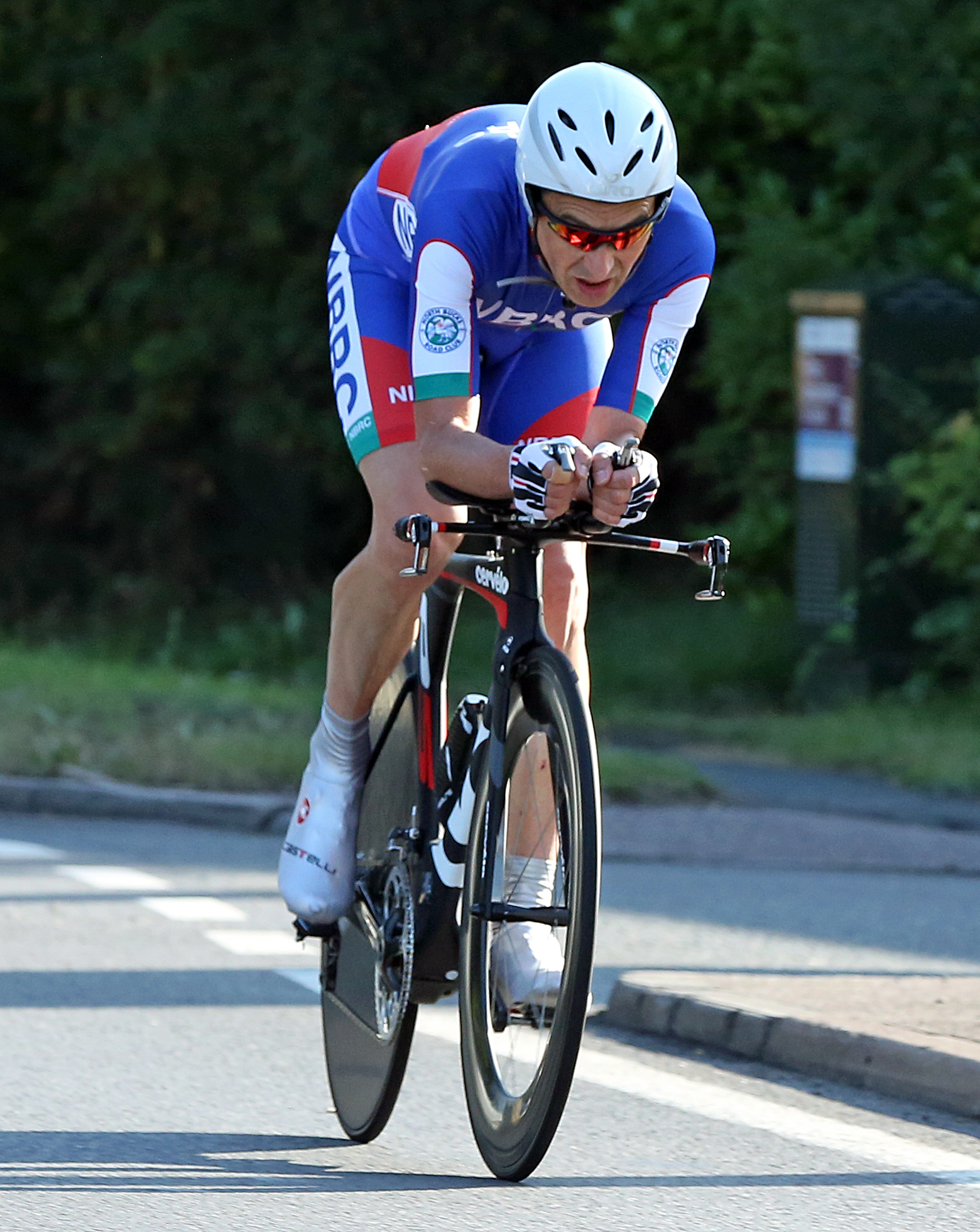 How do I have a go at a time trial?
The simplest way is to find a local club such as the North Bucks Road Club and have a go at one of their club events. We usually publish our calendar of events early in each year. You don't need a racing licence to take part in a time trial.
Find out more!
We'll publish the 2024 calendar of NBRC club events before the end of 2023. There's also the annual New Year's Day '10', which kicks off at 10 am. on 1st January (naturally!)
You can find open events via the CTT web site, where there's more information about time trialling for beginners.
Club Time Trial reports by season can be viewed via the menu at the top of this screen.